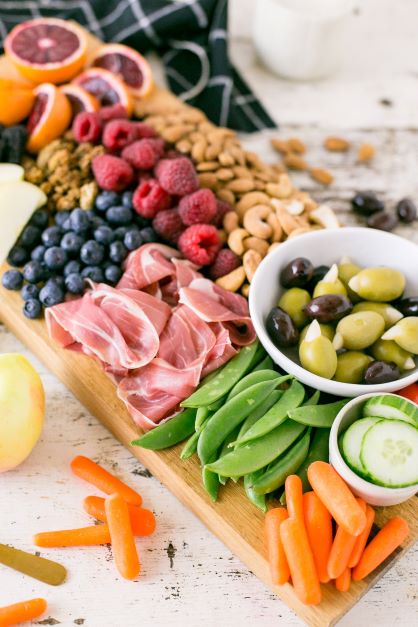 Is there such a thing as a fertility-friendly snack? Or a fertility diet you can follow? Navigating the internet to find the answers to these questions can be confusing! You are in the right place as we have the answers.
Can snacks fit into a fertility diet?
There is scientific evidence for the benefits of certain foods, nutrients and dietary patterns on improving and supporting your fertility. How to put this into practice can still be confusing and overwhelming.
Looking at your snacks is a great place to start. Many people incorporate snacks into their daily lives to keep them feeling satisfied between meals. They can also be a great way to incorporate as many fertility supporting nutrients as possible and to increase your fruit and veg intake to at least 5-a-day. Planning ahead to make sure you have healthy snacks on hand that can support your fertility is one step you can take today to optimise your diet for fertility.
Our top 10 fertility snacks
Below are 10 great fertility friendly snack ideas for when you're trying to conceive or just want to support your fertility.
1. Portion of fruit
Keep it simple. A portion of fruit can be a great and light fertility snack. This option provides you with antioxidants which may increase live birth rates (1), reduce the time to conception (2) and improve egg and sperm quality (3).
Different fruits can provide different fertility promoting nutrients and antioxidants. We recommend choosing a variety of colours and mix it up, maybe rotating what you buy each week. By having 2 different fruits per day, you can get you well on your way to eating your 5+ portions of fruit and vegetables per day.
2. Unsweetened Plain or Greek Yoghurt
Yoghurt is an excellent source of protein, which we need for all growth and development. Consuming more dairy is also related to increased chance of live births among women over the age of 35 (4). Choose full fat dairy in your fertility diet as opposed to lower fat dairy as this is linked with reduced risk of problems with ovulation (5).
3. A handful of mixed unsalted nuts
Nuts are a fertility powerhouse, they contain fibre, protein, healthy fats as well as selenium and vitamin E, both of which support fertility. They are the perfect handy fertility snack!
They are also a source of polyunsaturated fats, consuming more of which can have a positive impact on IVF outcomes (6).
You can choose as many different nuts as you like, be mindful to include Brazil nuts though as just 2 a day can provide you with your daily requirement of selenium. Consequently, getting enough of this nutrient can help reduce time to pregnancy (7).
4. Vegetable sticks with hummus dip
Sticks of carrot, pepper and/or cucumber are a perfect on the go fertility snack. Combining them with hummus to make your snack more filling and tasty.
Similarly to fruit, vegetables are a great source of fibre, antioxidants and a range of important vitamins and minerals. They are also lower in sugar than fruits, so they are a great way to reach your 5-a-day.
Dipping them into hummus can make your snack more filling and tasty. Plus, it incorporates more plant-based protein into your diet, which is helpful for fertility (8).
5. Oatcakes with unsalted nut butter
Oatcakes are high in fibre, low in sugar and are a source of wholegrain. Their fibre content means that they take longer to digest, helping your fertility snack to keep you feeling fuller for longer. Eating more fibre has also been related to improved ovarian function (9) and is associated with higher chances of pregnancy (10).
6. Glass of milk
A glass of cow's milk is a great source of protein, B vitamins, iodine and calcium. Drinking milk can lower the risk of infertility by 70% compared with not drinking it (11).
Milk, especially cow's milk, is an important source of vitamin B12 in the UK (12). Getting enough vitamin B12 levels is very important as low levels have been reported in more than half of infertile women (13).
If you don't drink cow's milk, try a plant-based milk instead that is not sweetened and has added vitamins and minerals. Ones to look out for are iodine, vitamin B12 and calcium.
7. Whole wheat cracker with avocado, tomato and a drizzle of extra virgin olive oil
Opting for wholegrains can help to keep our blood sugar levels stable and can increase the likelihood of pregnancy after IVF (14).
With crackers, it's all about what you eat them with. For example, you can use them to experiment with different toppings to create a variety of different fertility snacks. These are great because:
avocados and extra virgin olive oil are a source of vitamin E, an antioxidant which can be helpful for both male and female fertility (2).
tomatoes contain lycopene, an antioxidant that has the potential to boost egg and sperm quality (15)
8. Popcorn
Popcorn is also a great source of whole grains, they contain fibre, B vitamins, folic acid and antioxidants (16). All of which are nutrients that support your ability to conceive. Additionally, eating more whole grains can support improved endometrial thickness. As a result this supports implantation and as well as the success of IVF (14).
Whole grains also help regulate glucose metabolism and reduce insulin resistance. Insulin resistance can have an impact on fertility by: (17)
higher levels of male hormones
disturbing the maturation of follicles in the ovaries
producing lower oocyte quality
leading to irregular or lack of ovulation
upping the risk of multiple miscarriages (18)
Popcorn is a brilliant and easy option for a fertility snack. Choose popcorn that has been popped by air rather than in oil. Versions that are lightly seasoned popcorn with salt or spices avoids added sugar and salt.
9. Edamame beans
Edamame beans are immature soybeans that come from East Asia. They are a great source of plant-based protein. In fact, not only that, they are a complete protein source, meaning that you are consuming all nine essential amino acids.
Edamame beans are a source of dietary soy whose intake may increase the chance of live birth when if going through IVF (19).
Roast them in the oven with a little olive oil and unsweetened desiccated coconut for a sweeter snack or go for chilli powder, cumin and paprika for a tasty, savoury crunch. Leave the beans to cool and enjoy.
10. Homemade roasted sweet potato crisps
Sweet potatoes are a good source of fibre and antioxidants such as beta-carotene and vitamin C. Owing to this, consuming enough of these nutrients can help reduce time to pregnancy in women with who are unable to get pregnancy with out an explanation (2).
Make your own versions of sweet potato crisps so that you can reduce the amount of salt and saturated fat compared with shop bought alternatives. A little olive oil goes a long way and these crisps can be made in as little as 15 minutes. A perfect snack as part of a fertility diet.
In conclusion
So now you know how to create the perfect fertility snacks it is time to go shopping. Having nutritious snacks is a great way to support your fertility friendly diet. If you want to take things further and explore how to optimise your whole diet for fertility with a focus on egg quality, take a look at our popular Egg Quality Meal Plan and Guide!